Klik hier voor Nederlands
Sign up!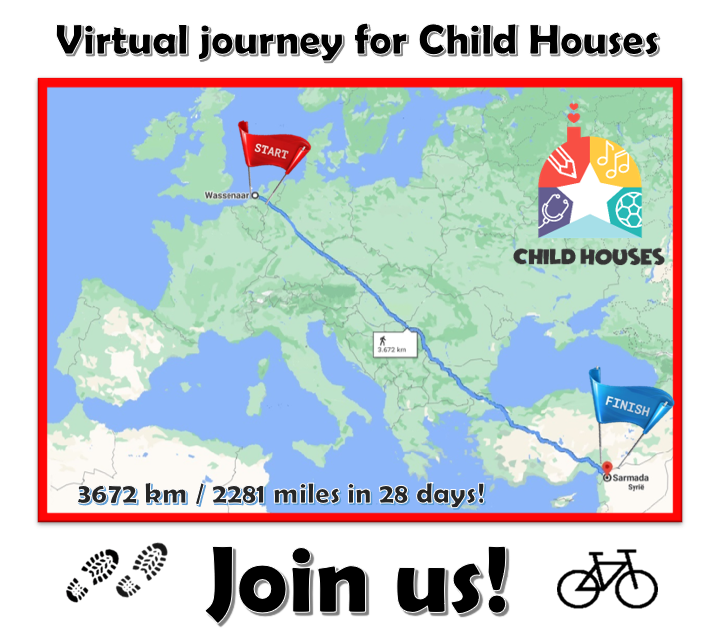 Every journey starts with one first step...
2020 was an eventful year for everyone, including the brand new Childhouses foundation. Childhouses offers shelter, education, protection and emotional support to the most vulnerable orphans in Syria; children who are surviving in conflict zones without parents.
Why this journey?
Childhouses started as a dream. A dream to help Syrian orphans and vulnerable children in the region. That dream became reality by taking that one first step, taking an action that would become a wonderful journey. By sharing the Childhouses mission and keeping this journey moving, we contribute a little more each day to creating a better future for these children. Will you join us? Together we can send a beautiful message to these kids.
What do we want to achieve?
Connection with each other, with the children and the goal of Childhouses.
Express how proud we are of our home, the children and the team that support them.
Brand awareness for Childhouses, by mobilizing as many people as possible to walk, run or cycle to help us reach the finish line.
Bonus: Fundraising (You can have your kilometers sponsored, for example).
How are we going to do this?
By fictitiously traveling from our Head Office in Wassenaar, Netherlands, to the location of Childhouses in Sarmada, Syria. No less than 3,672 kilometers! By joining forces, we can walk, run or cycle for miles with as many people as possible to achieve this goal. Each participant will receive an image of one of the letters of Childhouses (C-H-I-L-D-H-O-U-S-E-S) to print or draw, at the end of your run or walk, we ask you to share a photo with this image to form a sweet message that we will send to the children.
We start on February 1, fresh in the new year. We aim to arrive in Sarmada on February 28th, but that is only possible with your help!
How do you get involved to walk, run or cycle with us to Sarmada?
Register via the button below or via journey@helpushelp.nl and receive your info pack
Print or draw your assigned letter on A4 - be as creative as you like!
Walk or cycle as many kilometers as possible!
Send us an anecdote and photo of yourself and the image, along with the number of kilometers travelled and where you are in the world to journey@helpushelp.nl
We will post the photos and count the kilometers to inspire more people to get moving until we reach the 3,672km together
Invite friends, acquaintances, family, colleagues to walk / cycle with you and don't forget to take pictures!
Follow and like our virtual journey on social media to see how far we are: Facebook
Share photos of your walk or cycling route (with our goal) on your own social media, help us inspire others to participate!
---
The first step was taken on February 1 by actress Monic Hendrickx
How far along are we now?
23 February: 3400 km, We have NEARLY arrived in Syria!
Click here for daily updates!
Join us!
Donate